Mena Country For Contracting
GRCA MEMBER
GRC Manufacturer: Sprayed GRC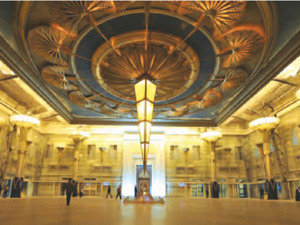 MENA COUNTRY FOR CONTRACTING
60 Abdelaziz Fahmy St
Stanly- Ground Floor
Behind Elbarka Bank
ALEXANDRIA
EGYPT

Mr Walid Shawky Badr
+20 35 22 8898
www.menacountry.com
tec@menacountry.com
Founded in 2009 , Mena Country contracting LLC is a company specialized in finishing projects , GRC , GRP and GRG it's a join venture between investors and a company that now exists as one of its arms , Mena for Engineering Consulting and construction.
Mena for engineering, consulting and constructions established its first factory in Alexandria in 2000 , when it also obtained membership in the WTO(GRCA ) since then it has implemented numerous projects in Egypt , the libyan Arab Jamahiriya and Saudi Arabia ,working on more than 150 project in the various governorates of the republic.
The company follow a policy of quality and commitment to the production and use of the highest quality row materials, whether available in the domestic market or imported.
Mena Country provide services including healthy and excellent design , manufacturing , installation , and finishing . We provide all technical services and support to consultants in the field of GRC , GRP and GRG.
As an expansion we started entering in the Saudi Arabian market and the Qatari market by opening a new factory for G.R.C in Doha as an Egyptian –Quatari investment with the ADLER projects company.
Adler is a general construction company in the state of Qatar . Mena Adler is an asset in the following areas :
Department of water and thermal insulation
Section of the central air –conditioning
Department of building maintenance
Currently the company has expanded it's services to cover the current products plus added activities like general contacting, real estate investment and project management.
Mena Country is committed to providing a high quality standard construction management service that fully meets the requirements and expectations of our clients.
We view our quality management system as a basic for continuous improvement in efficiency effectiveness , and customer service , it is therefor subject to regular audit , review and opportunities for improvement.
We develop our staff/employees to enhance their quality awareness and to ensure that they have requisite knowledge to understand their responsibilities , we provide our engineers with the highest industry training programs available as PMP and total Quality Managment.